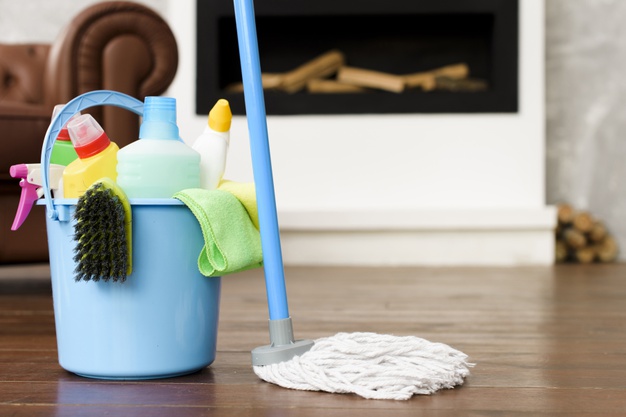 If you are having building, refurbishment or renovation works done, once the project is finished it will be time to think about cleaning up. Or reliable and professional cleaning company offers a full after builders cleaning service in London, that will have everything clean and tidy in no time.
Refurbishment, building and redecoration projects can be exciting and require hard work and very careful planning. With so many moving parts and intense labour, they can also be extremely stressful to complete. We want to take the stress out of the clean-up for you once the builders have left – our after builders cleaning service aims to do just that.
An after builders clean is a specific type of service that we offer to both residential and commercial clients, in the days immediately after different types of building work have finished.
Our after builders cleaning service covers cleaning up after:
Home remodelling works or extensions
Garages or conservatory building
Office building or refit
Restaurant or retail unit refurbishment
Hotel refurbishment
Painting and decorating (residential or commercial)
Once we are finished, your property will look clean and we aim to remove all traces of:
Dirt and grime
Dust and brick dust
Building materials
Debris and rubbish
Residues/ adhesives
Protective sheets and films
Bad odours
We cover a wide range of properties, from private houses to commercial buildings. Our reliable and professional cleaners are highly trained and will provide all of the cleaning products and equipment necessary to complete your after builders clean. This means that you can book us in for an after builders clean without having to worry about hiring or sourcing any specialist equipment or materials. Everything that will be needed for the after builders clean is included in the price that we quote you, so there will be no unexpected expenses or surprises.
After Builders Cleaning
After Builders Cleaning

from

£

18/h
Just as you would book professional and qualified builders to work on your building or remodelling project, you should consider booking a professional cleaning service to clean up and put everything right once the work is finished. We always strive to work with our customers based on their individual needs and will assess each site depending on how we find it.
Typically, during an after builders clean you can expect us to:
Carefully remove any protective films or sheets
Thoroughly sweep and mop all hard floors
Remove any debris or rubbish and dispose of it responsibly
Vacuum carpets, upholstery, rugs and stairs
Thoroughly wash down all wood and paintwork throughout the area (such as skirting boards, cupboard fronts, shelves, bannisters, desks etc)
Clean and polish all glass and tiles so that they are streak and smear free
Clean interior windows (glass, sills and frames)
Wipe down, dust and polish all surfaces throughout the property
Wipe down and sanitise touch points (light switches, door handles, sockets)
Thorough, deep cleaning of any sinks, baths, toilets or showers
Final dust/ polish of all surfaces before we leave so everything sparkles!
We aim to be as flexible as possible and we understand that building work can sometimes overrun and that the expected deadlines for completion can change. We always try to ensure full customer satisfaction, so whilst you have our guarantee that if you book us for cleaning service we will arrive promptly at the agreed date and time, we try to work alongside you if things change. If you need to change the date of your after-builders clean, please let us know with as much notice as possible and we will try to fit in a new date at your convenience. It makes it even easier to do this as we are available to work in the London area seven days a week, throughout the year.
It is best to begin cleaning once the works are completed as this will give the best chance of getting the place in order as quickly as possible. If you require us to start cleaning before the builders have left, please give us a call to chat through this and find out if it could be a possibility.
You may be wondering why you should book a professional after builders clean with us and what our company can offer you:
Reliable and professional service in the London area
Fully trained and experienced cleaners
No need to hire any additional equipment
We charge hourly rates, so you can be confident that we will work until the job is done
High standards of cleanliness and attention to detail
Our seven days a week service fits in with you and your schedule
After building work has ceased, it is important to clean the site up quickly, not only so you can enjoy how your new place looks, but also for health and safety reasons. One thing that will always be left behind after building works is dust, especially brick dust. Breathing in excessive amounts of dust is a health hazard. It is vital that dust is swept up, wiped away and disposed of safely. After builders cleans form an important part of the health and safety process.
During an after builders clean it might be necessary to collect remove or clean up other potentially hazardous materials such as broken glass, small shards of metal or adhesive residue. You can rest assured that we take health and safety seriously and that we will work safely and diligently, without the use of excessive or harsh chemicals, to get the property into sparkling condition.
After building work has been done, making the space into a clean, tidy and organised environment makes it into a safer environment. Cleaning and organising the space will remove hazards that could potentially be harmful to health, cause an accident or pose a fire risk. Untidy and unkempt spaces can also attract pests.
Throughout the after builders clean, we intend to turn a dusty, dirty and disorganised space into a clean, safe and tidy place. After removing any leftover debris and rubbish, we will carefully and methodically clean up the space, firstly removing the excess dust, then washing down all surfaces, vacuuming and mopping floors and finally giving everything a final shine and polish. We can make your homes, restaurants or commercial spaces shine after you have had building work done.
Leave the clean-up work to us so you can sit back and simply enjoy your newly built or remodelled space. We assure you that once we have finished your after builders clean, your space will be cleaner and safer and your place will definitely sparkle! It might be hard to envision what your new space looks like beneath all of the dust and grime, which is why getting an experienced and skilled team of cleaners in is so important.
After your builders have left, if you would like your newly built space to be:
Looking and feeling clean
Smelling fresh
Without built up dirt, dust and grime
Tidy, organised and safer space
More hygienic
Then you really need to get in touch with us at Deep Clean London! Once the builders move out, we can move in and through our dedicated service, we will help your vision to become a reality.
We offer a range of cleaning options, provided by experienced and skilled cleaners – we clean homes and much more. You may want to consider combining our after builders cleaning service with another service such as carpet cleaning or oven cleaning. Once you have settled into your newly built space you might also want to book us in for a deep clean of the property at a later date.
To enquire about an after builders clean in the London area, call one of our friendly advisors today or, if talking on the phone isn't your thing, you can book a slot online. It takes less than 60 seconds!
Deep Clean London, making London pads sparkle, seven days a week.