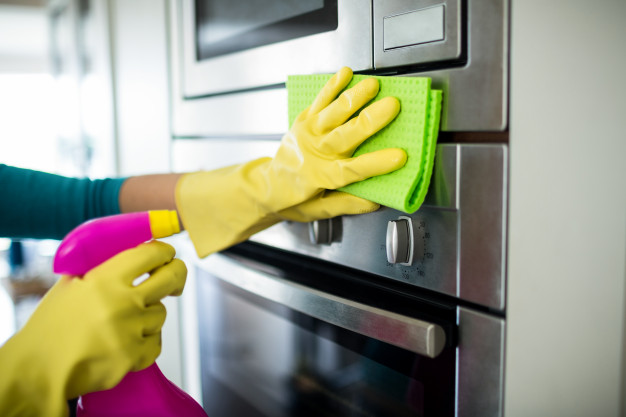 Cleaning the oven often ranks at the top of the most hated chore within UK homes. If you have been putting off cleaning your oven for some time, the chances are it is harbouring months of burnt on grease and grime. By using our professional oven cleaning services, you can save yourself from spending hours of your time scrubbing your oven or hob. Sit back, put your feet up and let us do all of the hard work for you.
The kitchen is the hub of a home. By booking our friendly and professional oven cleaning service, your kitchen will have a gleaming, focal point at its centre.
Our promise is to leave your oven:
Looking clean
Hygienic
Smelling fresh
Shiny metal and glass
Safe and ready to use
Our professional cleaners will leave your oven hygienically clean and shiny. Our trained staff only use high quality cleaning materials and equipment that will leave your oven in top quality condition. You will be able to cook up a storm as soon as we leave, as we use only safe and proper methods, so there is no need to let your appliance air out once we are finished.
Oven Cleaning
Single Oven Cleaning

£

45

Double Oven Cleaning

from

£

63

Cooker Hob Cleaning

£

23
At Deep Clean London, we are professional and highly trained cleaners and we promise to do zero harm to your home:
No harsh chemicals
No damage to your kitchen or property
No nasty residue left behind
No lingering odours or bacteria
No waiting around, once the job is done your appliance is safe to use
We pride ourselves on going the extra mile with our cleaning services. Our standard oven clean includes a full clean of the oven including: making the glass door sparkle, scrubbing the sides, top and bottom of the oven, removing, soaking and cleaning all of the metal shelves and we even shine the cooker hood for you.
You might also want to add on our hob cleaning service to complement your professional oven clean. Our hob cleaning service starts at only £23. A clean and shining hob will help to make your whole kitchen to look smart and sparkling!
Hobs can become easily dirty from everyday cooking: pans boiling over, oil spatters from frying and items spilling out as you stir and season your meals, can result in sticky, unclean and stained hob areas. It is amazing just how quickly this builds up. This can make the kitchen area look unsightly and more importantly, can result in an unsafe and unhygienic food preparation area.
And we don't just stop at standard ovens and hobs. Our professional cleaners have a variety of cleaning expertise including restoring Aga cookers, range cookers and microwaves back to their former glory!
When you book a professional oven clean with us, you have our satisfaction guarantee. Our expertly trained cleaners will assess the condition of the appliance and decide on the most appropriate cleaning solution. Using only tried and tested methods and cleaning chemicals, they will clean every part of your oven:
Inside the oven including top, sides, back and base
Outside of the oven including wiping down and shining the controls, handle and door
Inside of the door, removing any burnt on food, grease and grime
Removing the racks and grill pan and soaking them in special cleaning solution
Scrubbing, wiping and polishing the whole oven inside and out
Putting everything back in place ensuring it is in a far better condition than we found it
We understand the reasons why cleaning the oven is the country's most hated household chore, mainly because it is a tiring and time consuming task and because it is one so many of us put off, it means that the dirt and grime piles up, making it harder once we do get around to it.
The huge range of oven cleaning products on the shelves, all promising to make the shortest work of the job with the best results, can also be extremely confusing. It can be hard to decide which one to choose and which ones to avoid. The price of home cleaning products also varies greatly. When selecting an oven cleaning product, you need one that is:
Safe
Effective
Value for money.
To find a good oven cleaner you may need to try and test a few…then you will need to find the best cloths, scourers and sponges, that are durable enough to get the job done, but without leaving marks and scratches behind. Then you need to find some rubber gloves in just the right size. And all of this work is before you even begin tackling the cleaning! Luckily for you we have researched all of our products and methods. We have our own tried and tested ways to clean your oven, with some of the best materials and cleaning solutions in the industry. We are also never daunted by rolling up our sleeves to start scrubbing and all of our team know how to work efficiently, safely and with care. So, by calling us in to professionally clean your oven and hob, you are really saving yourself a lot of hassle.
If you are a tenant in a rented property, you should also be aware that the state of the oven is one of the things that comes up most frequently when landlords or property managers do their inspections. By booking a professional oven clean before you vacate your property, or before your annual inspection is due, you could save yourself a lot of stress. You might also want to add a professional oven clean onto out end of tenancy cleaning service, as well.
So, you may be wondering if aside from looking good, are there any other advantages to having a clean oven? And the answer is most definitely, yes!
A clean oven is a safer oven – grease, grime and food debris can be a fire hazard inside an oven or grill. Spills or drips, especially from foods that have a high fat content, such as bacon or cheese, can begin to burn and produce smoke quite quickly.
Food tastes better from a clean oven. Burnt on food inside an oven can lead to a smoky, fatty, charred taste – and not in a tasty, barbequed way!
Food needs to be prepared in a hygienic area – bacteria that can build up in food preparation areas can lead to serious illnesses if eaten. By having your oven thoroughly cleaned by us you are helping to prevent germs and bacteria growing around the food you and your family consume.
A clean oven lasts longer – as with most household appliances, keeping your oven clean and well maintained will increase the longevity of the item, meaning less chance of it being damaged or breaking down completely.
A more efficient oven = money saved – it may surprise you, but having your oven professionally cleaned may actually save you money in the long run. Clean ovens are able to heat up more quickly and efficiently, reach their optimum temperature more easily and cook the food more evenly!
Better visibility means better cooking – when you can see perfectly through your oven door, it is easier to see how your food is cooking and if it requires turning. This means less chance of burning or overcooking your meals.
When you take all of these things into consideration, booking in a professional oven and hob clean with us might actually the most cost savvy option. A clean, cared for oven is less likely to break down and need repairs and will not need to be using so much energy as it will heat up quicker. Clean ovens are also safer than those with a build up of dirt and grease and you really cannot put a price on your household's safety.
Cleaning the oven might well be one of your least favourite chores, but by booking in a professional oven clean with us, we can help you to get on top of things and make it easier for you to keep up with your cleaning regime in the future.
Call one of our friendly advisors today or, if talking on the phone isn't your thing, you can book a slot online. It takes less than 60 seconds!
Deep Clean London, making London pads sparkle, seven days a week.